Due to the mounting challenges in dairy farming, some producers are considering leaving the industry. If you are an ex-dairy farmer or are considering closing down your dairy enterprise, would converting to an AFU help you find financial security through the beef sector?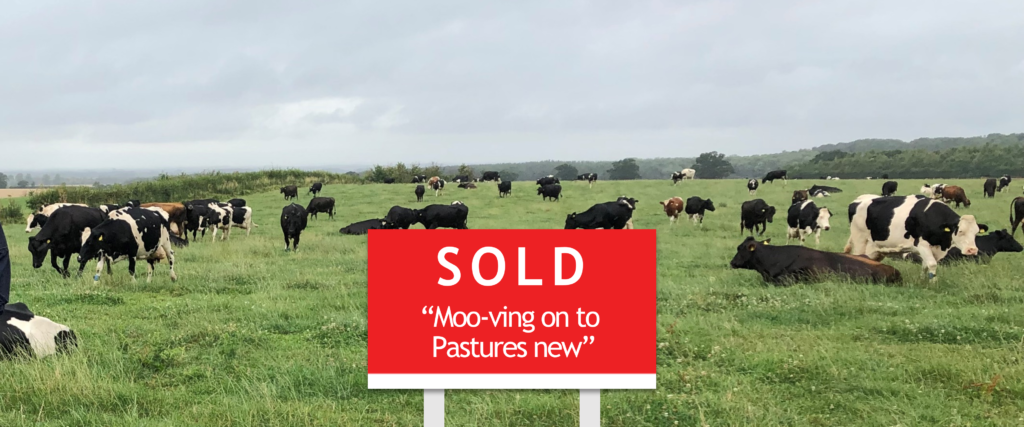 Analysing the pros and cons for ex dairy farmers:
4% of UK dairy farmers quit production in 2020/21. What options do farmers have when leaving dairy production behind? We explore the benefits and drawbacks of converting an ex-dairy holding into an AFU.
Dairy units tend to have existing safe handling systems and housing suitable for varying ages of cattle. Farms also tend to be compactly designed which will suit defining a boundary perimeter including muck and feed storage.
Well planned intensive beef enterprises can emulate a monthly milk cheque within a short time period. Bringing in monthly batches of calves or cattle will soon produce an outward load of finished beasts which can be drawn and marketed by Meadow Quality to maximise returns.
Experience in extracting performance through Nutrition
Milk production relies on providing a ration that produces the greatest return from the cow, and this remains the skilled focus in weight gain of beef cattle.
If land is let out or grazing no longer desired, housing beef on a purchased ration can create a secondary income for the farm split.
Substitute to Heifer Rearing
With boundary limits and milking insurance now required on linked heifer rearing units, finishing beef may be an appealing alternative.
The initial investment to secure your holding can be considerable, but it is arguably the most important part of your application. It is vital for making your AFU a success. Meeting these requirements does not necessarily mean permanent fixtures need installing (e.g. walls), careful planning of specialist equipment may allow you to secure your boundaries with minimal cost and allow for rapid changes in future.
You will be required to make some changes to your current setup in order to introduce an approved finishing unit into your business. Changing the use of your farm buildings will require commitment and investment, but, as an ex-dairy farmer, you will already have much of the equipment needed for cattle handling. 
Becoming an AFU - benefits and considerations for your business:
How can Meadow Quality help you?
For more information, please contact your local Meadow Quality livestock specialist, or call 01789 734134.